SIE: Sécurité Incendie Européenne (European Fire Safety)
Safety of a Human Heritage, of a Production Tool, deserves professionalism.
SIE (European Fire Safety) has been founded in 1992 by Rodolphe GIMENEZ.
He is a Fire Safety professional passionate about Decoration and Design. He's also the founder of Fire Design.
EFS offers you all guarantees and certifications at every step in the fire protection of Professionals and "Etablissement Recevant du Public" (ERP) (Public area).
Certification of Installation Services for Mobile Extinguishers (under number 463/07/04-285) with certified products (NF-CE).
SIE is also an Approved Center for Decennial Revision of Extinguishers.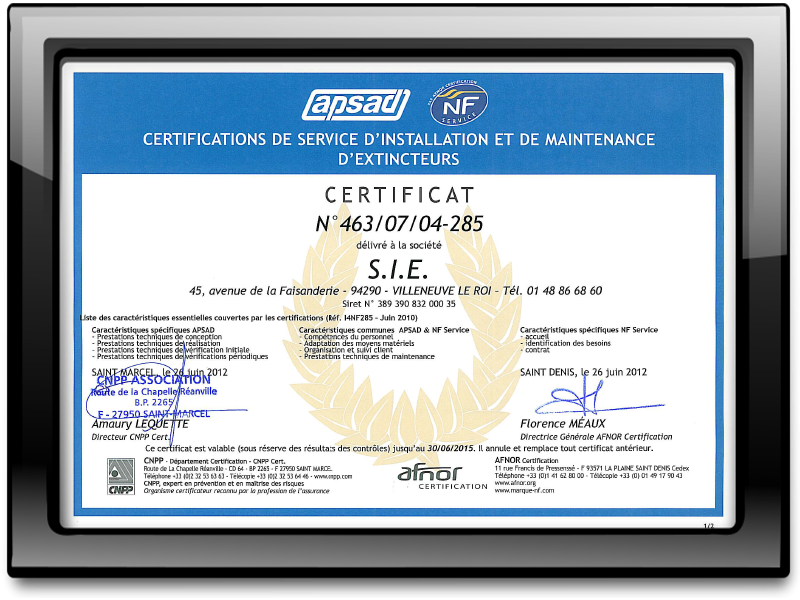 SIE offers you safety works for your company at all levels:
         Security Lighting
         Smoke extraction
         Fire alarm / Intrusion
         Signalling system / Security plans
         Extinguishers / Fire-hose stations
         Fire formation: first and second intervention / evacuation
SIE is a Training Organization registered in the General Labor Directorate, Employment and Professional Formation of île de France under the number 119 405 86 094.
SIE Ile de France based in the Parisian suburb (94), SIE North, based in the Pas de Calais and EFS South, based in the Var.
More information on the company blog: http://www.sie-nord.com
They trust in SIE : 
SNCF, Vinci, Keolis, Dalkia, Balladins Hotels, the Royal Norwegian Embassy, Apave, Assistance Publique des Hôpitaux de Paris (APHP), Consistoire de Paris, the François Mitterrand National Library, Crédit Foncier, Direction Générale des Armées (DGA), Faceo, Orphans Auteuil  Foundation, Paris Hotels, General Motors, Siemens, Thalès, City of Lille, Lille University and many other.