Fire design concept
Welcome
A little more than 5 years ago, Rodolphe Gimenez, talented entrepreneur had a great idea... He imagined an innovative concept to protect his family: A designed extinguishing device with unknown guarantees until now on the French market. Since then, the small French brand has gone far and now offers a line of more than 400 models. The distribution network has expanded from a simple e-commerce website.
Today we are proud of having more than 400 points of sale in France, as well as abroad.
As experts in fire safety, we have made the choice of design, performance and safety. It is the adherence to quality that gives strength to the Fire design concept.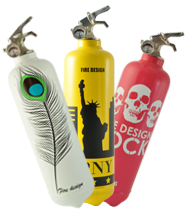 Fire design history
Rodolphe Gimenez, the creator of Fire design, created his first company, Sécurité Incendie Européenne (SIE), in 1992.
He is passionate about decoration, and it was during a move that he had the idea of customising extinguishers in order to protect his family without taking anything away from his new interior. After seeing his friends' reactions, the idea of creating a brand started to develop in his mind. Thus Fire design was born.
Expert
Your safety deserve our professionalism.
Our parent company, SIE, APSAD certified (extinguisher area) and NF Services goes hand in hand with French companies in making their facilities compliant (alarms, smoke removal, extinguishers). It provides training for employees and monitors compliance with the applicable regulations.
SIE, professionals serving professionals.
Concept: What is this ?
There is no other concept like it in the world; Fire design is an extinguishing device for home use.
It brings fire protection into the home, combining safety and design.
Flashy colours or trendy, but always high quality.
Fire safety now shows up in broad daylight!
A 10-year warrantly and efficient services (namely, refill and check free of charge) bring real added value to this object, which used to be only practical.
Totally customisable, Fire design offers many colours and patterns, even unique creations, in order to give everyone what they want.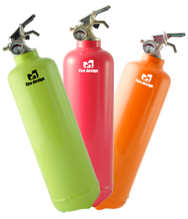 Focus
The small Fire design format (1 kg) makes it possible to have it at arm's length in order to act right away prevent major damage–because we­ dealing with fire, every minute counts !
Every Fire design tank is EC approved, and the identification number marked on it ensures that you will benefit from all the guarantees of the design.
We chose powder, because it's the only extinguishing agent that can act on any type of fire safely (no flare-upof the fire,no risk of electrocution, kind to the ozone layer, etc.).
The effectiveness of powder makes it possible to act with a smaller amount than with another extinguishing agent.
We are a human-­scale French SMB.
Contact us, and you will always reach an expert to answer your questions.
Learn more: download the brochure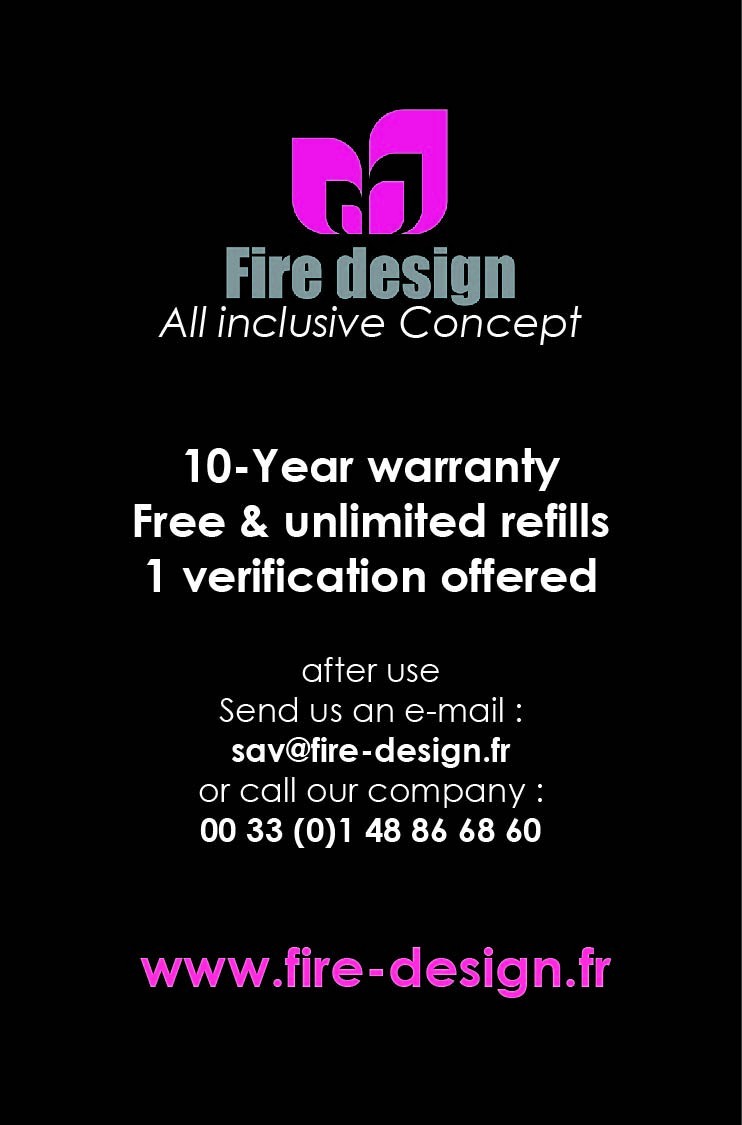 10-year warranty
We are Fire Security Professionals.
On this basis, we offer you a 10-year warranty on all devices. It means that your Fire Design device is operational during all these years.
Of course, this warranty is coupled to the Legal Warranty of Conformity of the device which prevents every default or manufacturing defect.
One question? Contact us by phone or mail. We will answer as soon as possible.
Free refills
The Fire Design Concept involves a 10-year Commercial Warranty but also free refills. If you use your extinguishing device to put a fire out, you can contact us and we will explain you the way to refill your Device.
The process is very easy:
You contact us (by phone at 01.48.86.68.60) or by email (sav@fire-design.fr) providing us your Fire Design number (engraved on the lower part of the device, see below).

You send us the device by Post.

As soon as we receive it, we take it over. Our Certified Technicians check the device and recharge it according to an approved procedure by our quality department.

Under about 1 to 3 weeks, we will send you back the device for free to your address.

Your Fire Design is delivered at your home and is operational again. You can – again – install it on its mounting bracket.

Identification of your device: How to find the serial number of your Fire Design?
With Fire Design, no need to keep your receipt or your bill… Its identification number is engraved on the lower part of the device. (Here: 64689).
CE marking is used in addition on the device too.
Mounting bracket
Each Fire Design Extinguishing device is sold with its mounting bracket.
You can fix it to the wall (recommended) or in your car too.
For that purpose, there is nothing easier, as noticed on the pattern below, bring 2 screws (appropriate to your wall) and a screwdriver. Then fix it to the wall (recommended) or in your car.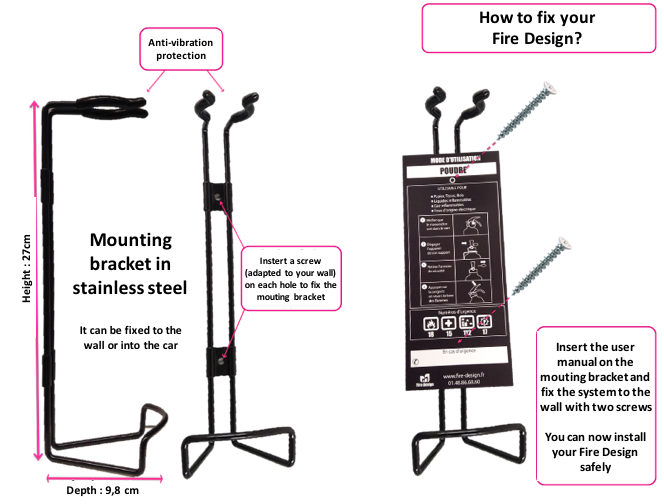 Anti-vibration protections. How to fix your Fire Design?
Stainless steel mounting bracket; It can be fixed to the wall or in the car. Depth: 9,8 cm. Height: 27 cm.
Put a screw (appropriate to your wall) in every hole to fix the mounting bracket.
Integrate the User Guide on the mounting bracket. Then fix the assembly to the wall with two screws. Now you can set up your Fire Design safety.
How to use your Fire Design?
As mentioned above, we advise you to fix your Extinguisher to the wall as you can see it on the picture below.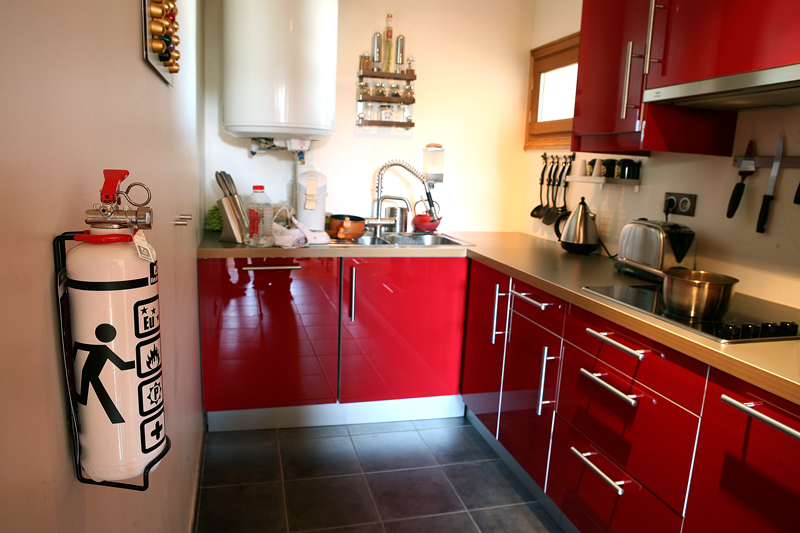 In case of fire, catch your Fire Design and drag it in order to take it out of its bracket (a little pressure on the handle is enough).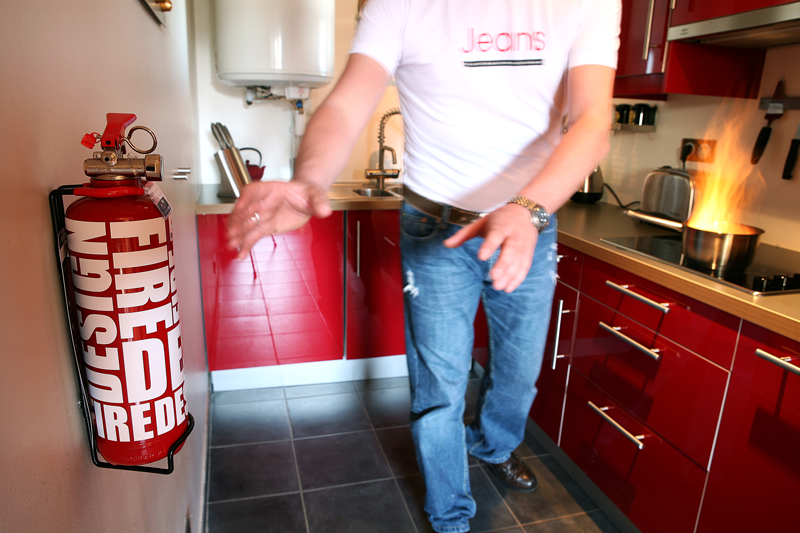 Remove the locking pin.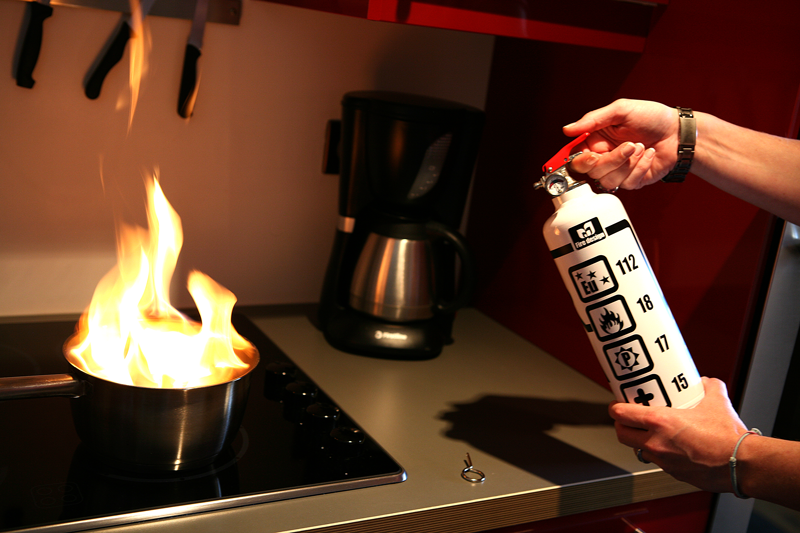 Squeeze the handle while targeting the base of the fire.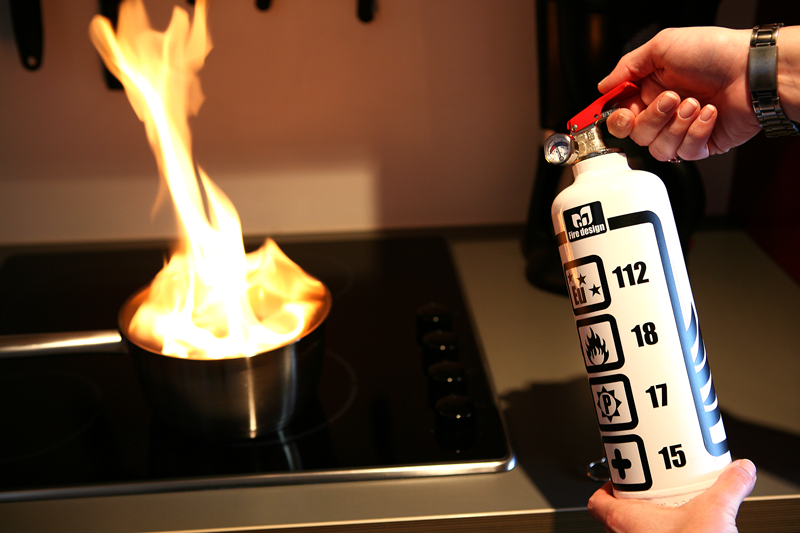 You need to know more…
Launched in June 2009 by a fire safety professional, the Fire Design concept is a revolution for the individual safety.
This innovative extinguishing device gives an efficient protection against fires. It allows to get the fire safety inside homes, thanks to its design and its guarantees.
Fire Design is much more than an extinguisher!
The extinguishing agent (mainly powder) allows it to be used for putting out a fire at home.
The 10-year warranty and the offered services give a real added value to this device renowned for its functional use.
The website www.fire-design.fr explain how to use the device and promises to surprise you by its simplicity.
Fire Design won numerous awards which prove its reliability, its innovative side and above all the respect of Quality Charters imposed by the fire safety sector.
Here are some numbers :
Chief Executive Officer Trophies - 2010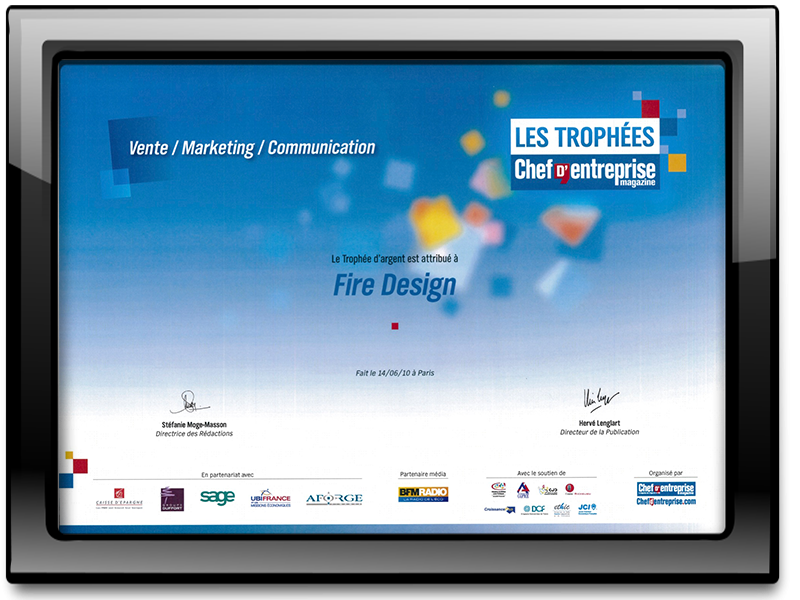 Quality Charter of the Val de Marne Crafts and Artisans Chamber.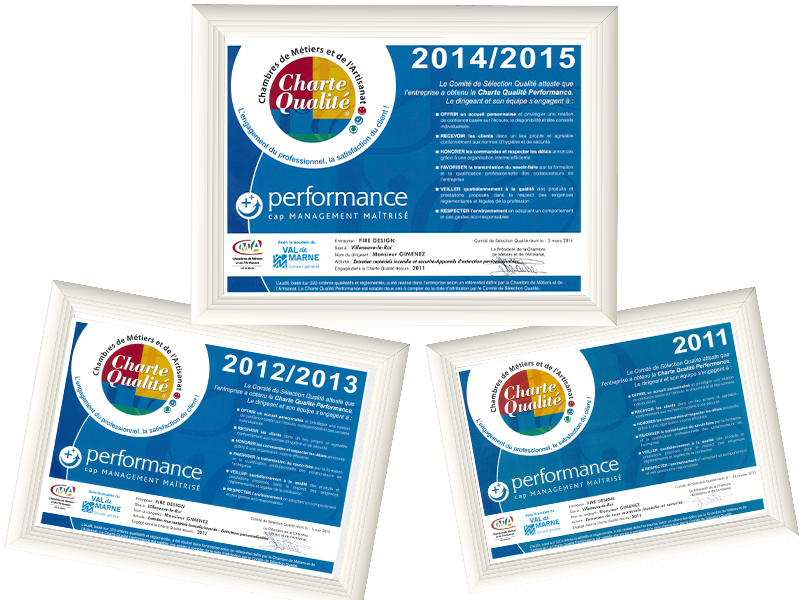 After an annual audit, Fire Design is entitled to the Quality Charter of the Val de Marne Crafts and Artisans Chamber since 2011.
Fire design, extinguishing device, has an entire range of colors and also some fashion patterns for everyone's taste: rainbow, nature, military, chromium, fluorescent, stainless steel, animals, tuning…
Gift ideas dedicated to people and companies. Flashy colors, sober motifs, or total customization, the Fire Design collections will surprise your close relatives, your colleagues, or your customers. 
Sublimate your home but also get your living place safe!
Since September 2011, internationally recognized brands share their talent with Fire Design (Smiley, Pet Rocks, Teo Jasmin, Rolling Stones, 24H du Mans, Day Collection, and many others). Original creations and unequaled quality.
Decorative object, Fire Design is dedicated for people loaded with domestic safety and design or professionals (points of sale, hotels and other receipt places for costumers where the visual communication is ubiquitous).